Sale
Smart Cord Electronic Power Conditioner
$70.00 – $99.00
Smart Power Systems Smart Cord Electronic Power Conditioner
Description
Smart Cord Electronic Power Conditioner
Maximize Your Protection and Your System Up-time!
Smart Cords are the perfect power protection solution for a very wide variety of electronic devices such as (just to name a few): 3D printers, POS (point of sale) terminals, receipt and label printers, payment devices, computers, modems, routers, etc.
Does your power protection application have space constraints? This is not an uncommon problem, and it requires an ergonomic device to correctly fix the issue. With Smart Power Systems, you'll be able to maximize your space and your system operations in the most efficient and effective manner through a unique computer grade-filtering option.
Our Smart Cord is a versatile device that not only meets the demands of your growing business layouts, but provides reliable power protection you can count on at all times. With the capability to fit virtually into any tight space, the Smart Cord electronic power conditioner is engineered to do big things.
Avoid system crashes and angry customers when you use our Smart Cord
With the right power protection, you have the ability to maintain your productivity and ensure that your systems will lead to lower total costs and greater reliability. Because of its small footprint, our Smart Cord's ergonomic design fits environments with little to no space that needs computer-grade filter protection. Equipped with Smart Ground technology, the Smart Cord effectively eliminates all ground loop currents in your network systems, making power protection straightforward and simple.
Protect your POS system, back-office servers and any other microprocessing products and automation equipment you use. From security systems to computers and IT programs, the Smart Cord provides power protection unlike any other. Eliminate issues that cause disruption, destruction, and degradation in your electronic components, and take the necessary precautions to safeguard the equipment you own.
For protection you can count on, trust Smart Power Systems.
Also Available: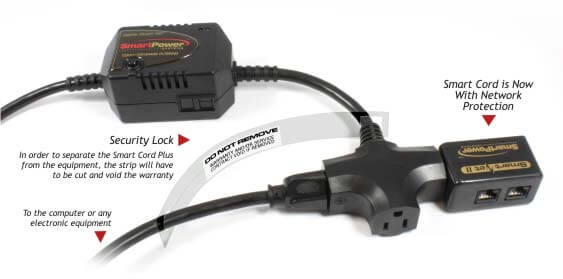 The Smart Cord Plus is an ideal fit to provide power protection for point of sale systems, office automation equipment, computer/IT equipment, and security systems. Utilizing power protection on microprocessor-based equipment eliminates power issues that cause disruption, degradation, and destruction to electronic components, and it is a necessary step to safeguard equipment purchased. Power protection enables companies to maintain or improve productivity and ensure system reliability that will lead to a lower total cost of ownership and greater return on investment.
The full lineup of Smart Power System's TBF™ Technology products that we offer can be found here.
Features

High voltage surge and lightning protection – Stops dangerous surges from damaging your computer system and other microprocessor-based electronics.
Low voltage spike and noise protection in common mode area (US Patent#6229682) – Filters down to 0.5 volts and stops disruptions of electronics.
Prolonged Over voltage Protector™ (US Patent #6560086) – Protects connected equipment against destructive over voltage.
Identifies bad wiring (US Patent #5721661) – Exclusive smart technology protects connected equipment against reverse polarity or no ground, making the Smart Cord fail-safe.
Smart ground technology for ground loop protection (Patent pending) – Ground loops can cause data errors, component failures and safety hazards.
Network RJ45 protection (model dependent)

Phone / modem RJ11 protection
Benefits
Smart Power Systems' TBF™ technology eliminates power issues that cause disruption, degradation and destruction to electronic equipment. Benefits include enhanced operation, reduced downtime and extended operating life.
Performance Factors
Common mode noise filtering
Normal mode noise filtering
Faulty wiring detection
Surge protection
Prolonged overvoltage protection
Correct harmonic distortions (model dependent)
MODELS:
Specifications
Model: Smart Cord
Cord: 6 feet
Color: Black
Frequency: 50/60Hz
Response time: Instant
Efficiency: 99%
Transient let through voltage (common mode) (N-G): <0.5V
Transient let through voltage (normal mode) (L-N): <10V
Size (H x W x D) (Inches): 2 x 4.1 x 2.48
Net weight (Lbs.): 1.18
Warranty: Lifetime
Safety: UL 1449 3rd edition, UL 991, UL1283
MADE IN THE USA
Tested under IEEE C62.41 Cat.A & B Ring wave
Different models are available for 120V, 7Amp, 10 Amp
Specifications subject to change without notice
Watch this video to learn how to avoid power problems and save thousands
Additional information
| | |
| --- | --- |
| Smart Cord Models | UTBF07SG-110, UTBF07SG-120, UTBF07SG-175, UTBF07SG-175 Plus, UTBF10SG-110, UTBF10SG-120, UTBF10SG-175 |